Kosmodisk Active - Sports Belt available for purchase via Kosmodisk.com.au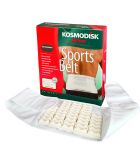 Sports Belt
A perfect solution for lower back pain. Offers maximum comfort, additional support and warmth. Recommended by professional athletes!

The KOSMODISK ACTIVE Sports Belt was developed in cooperation with experts and professional athletes. It offers the user maximum comfort while wearing, additional support and warmth in the lumbar area of the spine and full flexibility of the body.
The KOSMODISK ACTIVE Sports Belt package contains:
Sports Belt with lumbar Kosmodisk
Elastic Straps for additional usage
The massaging effect of the Kosmodisk stimulates the muscles close to the lumbar area. That in turn generates warmth which eases blood-circulation, which soothes your muscles and reduces tension.
The belt is made of a high quality cotton-polyamide elastic material, pleasant to touch and wear. Unique attachment system of the lumbar Kosmodisk offers two options of usage: with the back belt or with elastic straps.
We particularly recommend it to people who are prone to pain and injuries in the back area; to sportsmen, physical workers, to those who sit for long periods of time...
Benefits & Features
Effective solution for lower back pain
Maximum comfort while wearing
No restrictions to movement
Additional support and warmth
Fast and easy placing
Simple cleaning
No risk / 30 days Money-back guarantee
Cost: AUD $155.95.

To purchase the Kosmodisk Active Sports Belt or to view a full range of Kosmodisk products please visit Kosmodisk.com.au.