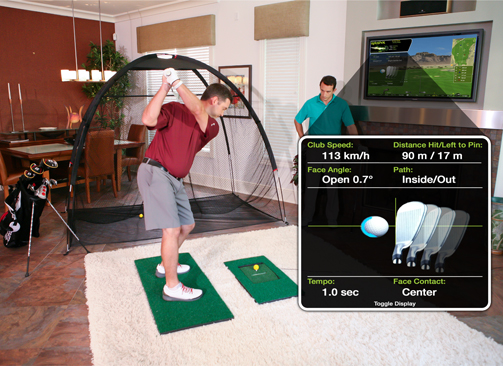 This revolutionary in-home simulator is an award winning affordable and accurate system that allows golfers to play world class courses anytime using their own clubs.
It has just been introduced to Australia and is now available at eMotion Golf.
Leading the home golf revolution, OptiShot +3 showcases a plug-and-play interface with Windows and comes standard with a practice range and 14 courses.




Highlight courses include Monterey Classic, Long Island Black, Whispering Dunes and Torrey Black - each of which accurately replicates a recent major championship site.
Retailing for $549, OptiShot +3 is among the quickest, easiest and most effective ways to play more golf, have fun and improve your game.

It features a durable swing pad with 16 state-of-the-art optical sensors which fire at 10,000 light pulses per second. These precisely measure your club through the ball striking zone, instantly transmitting shot impact data to your computer via a USB cable.
"OptiShot +3 uniquely and affordably showcases crystal-clear graphics and visual shot feedback for clubhead speed, face angle, swing path, distance, tempo, face contact and ball flight," says Joe Moses, Vice President of International Sales for OptiShot.
"Travel is no longer an obstacle when it comes to teeing it up, as you can take a golf holiday to North America or Europe any time, without leaving home."
Additional advantages of OptiShot +3 include the ability to:
* Play full rounds with up to four players
* Hit all shots from tee to green
* Tune settings specific to your clubs
* Practice shots from anywhere on any course
* Export detailed performance statistics
* Create multiple players and manage their settings / preferences
* Use standard or metric measurements
* Customize weather
* Save and resume games
* Spend time on the realistic practice range