Even if you have dozens of golf courses within driving distance of your home, there's nothing quite like jetting off for an overseas or interstate trip with your golfing buddies. It's not only an opportunity to hone your swing but see a part of the world you might never have experienced.
But planning a golf trip isn't always a breeze, with a lot of logistical considerations to keep in mind. In this guide, we'll talk you through the steps you need to take to ensure it's an adventure you remember for all the right reasons.
One thing that is easy is booking accommodation, with holiday rental sites like Rentola curating all of your options in one place. Whether you want to rent in Sydney while playing rounds at Northbridge and Mona Vale or base yourself in Juno Beach to take on the fairways of Seminole, you'll find accommodation to suit.
Get your crew together
What's more fun than going on a golf trip alone? Going with a bunch of your best mates. When planning your trip, contact any friends you know are keen golfers and who you're happy to share your travel experiences with.
The magic number for a golf trip is eight people, as this allows you to play a variety of combinations each time you hit the fairways. It's also manageable when it comes to organising flights, accommodation and car rentals.
Select your destination
Next, it's time to decide where in the world you want to travel to for your first golf trip. Are you looking for fun in the sun (with lots of other activities to do away from the greens) or perhaps a more serious pilgrimage to the home of golf in St. Andrews, Scotland?
When selecting your destination, take into consideration the weather during your dates, remembering that it could be a completely different season on the other side of the world. The good news is that there are outstanding golf courses all over the globe, so your choices are almost limitless.
Research courses
Once you've chosen your preferred destination, it's time to start researching golf courses. While there are probably a few signature courses you want to tick off your list, don't overlook lesser-known clubs that lie a little off the beaten track.
When selecting your courses, keep in mind the abilities of your group, ensuring that everyone will have an enjoyable time on the greens. It's also worth keeping in mind that some of the world's top courses are difficult to play due to high demand or member-only access.
Plan in advance
While last-minute trips can be fun, you won't get the pick of the crop when it comes to your preferred tee times and accommodation. By planning a few months in advance, you'll get better deals on flights, be able to secure in-demand accommodation and get to play all of the golf courses you desire.
Unless someone puts their hand up to be "chief organiser", delegate each of the planning tasks to someone in the group to ensure the workload is spread. It's also important that you are clear about your budget so that nobody is pressured into spending more than they can afford.
To share or not to share
One of the decisions you need to make when planning a golf trip is how you will accommodate your group and whether you will pair up and share or have individual rooms. While sharing a room will help to keep costs down, it may also mean being kept awake by someone snoring loudly nearby.
If you don't want to spend the extra money on separate rooms, at least pack a set of earplugs incase you get unlucky with your roommate. Better yet, opt for a more affordable property that will give you space and privacy, as well as a good night's sleep.

Courtney Cook, Unsplash.com
Schedule sparingly
It can be easy to try and pack as much as possible into your travel itinerary, with little downtime in between rounds of golf. But a trip that's meant to be fun can quickly feel like a grind if you're being herded from one course to the next, playing round after round.
When planning your itinerary, schedule plenty of time for relaxation, allowing you to kick back beside the pool or relax fireside with a glass of whiskey at the end of the day. Carefully consider the time it will take to drive from one course to the next and always buffer in a little extra, just in case someone sleeps through an alarm.

WWW PROD, Unsplach.com
Plan a "lay day"
Even if you're travelling with the keenest group of golfers, it's good to have a day away from the greens. Instead, plan a cultural experience or do a bit of sightseeing. Who knows, it might end up being a highlight of the trip!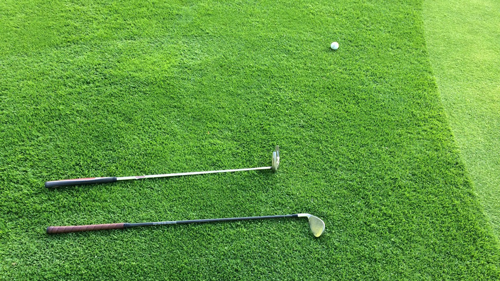 REGINE THOLEN, Unsplash.com