SIX NIGHTS, FIVE ROUNDS
GREAT VALUE PRICE JUST AUD2185 pp
For further information on golf in China please email travel@ausgolf.com.au
Day 1
Start your journey from any major capital city, with a relaxed flight to the gateway of China, Hong Kong International airport.A private charter will transfer you into China for a weeklong golf trip at Mission Hills - the largest golfing resort in the world.
Day 2
Vijay Course - Vijay introduces a 150-yard beach bunker - a visually striking feature in which great stretches of sand run along, and right down, into the water. Vijay skillfully incorporates the Pebble Beach 18 hole design into the course, which makes the course the most spectacular in Asia.
Day 3
Faldo Course - Opened in early 1999 to great critical acclaim from the international media, the Faldo Course is destined to become Asia's premier tournament venue. Nick Faldo has used his outstanding shot-making skills to design an extremely challenging course for major professional championships. Every hole is highly strategic yet eminently playable for regular golfers from the appropriate tee.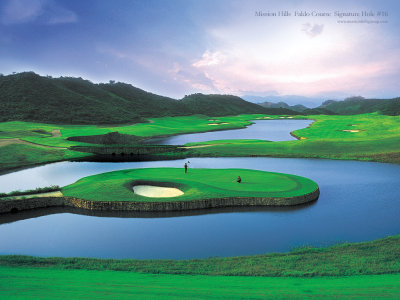 Day 4
The Leadbetter Course requires precise approach shots to large undulating greens in order to play to a par. Meticulously manicured landscapes and ground covers create an aesthetic quality that golfers are sure to remember. Large, traditional, sand flashed bunkers frame the well-contoured fairways throughout the course. Tees are strategically located on each hole to assure the golfing experience will be both enjoyable, yet challenging for golfers of all levels.
Day 5
Olazabal Course - Majestic vistas of untouched jungle and natural flowing streams create outstanding backdrops throughout the golf course. The signature square tees, along with undulating concave paspalum fairways, are two distinguishing features of this true championship course. Sand bunkers contain numerous contoured fingers, thick grassy vertical lips and deep "bowled" bottoms, which are sure to attract the attention of golfers as each shot is played
Day 6
The Norman course - The 7,214-yard Norman Course reflects the perfect combination of golf course style and nature. The front 9 holes meander through mountain ridges and the hillside, while the back 9 holes are set in a valley. The narrow fairways, surrounded by long grass and dense forest vegetation contribute to the course's difficulty index of over 140, which is one of the highest in Asia. Accurate golfing strategy is key to conquering this 'Tournament Course".
Your charter will transfer you back to Hong Kong for your direct flight back to Australia.
Price JUST AUD2185pp (twin share) AUD530 (single supplement)
▪ 6 Nights 5 star room accommodation
▪ Buffet breakfast daily
▪ 5 Rounds of Golf - includes supplement for Olazabal World Cup Course
▪ Shared motorized carts & personal caddie
▪ All transfers Hong Kong airport – Mission Hills & return to airport or HK city
Price is based on a group of 4 golfers & weekend and holiday surcharges apply
Flights can be organized from any capital City.
All prices subject to change without notice.
For further information on our Mission Hills tour, or for information on golf in China please email travel@ausgolf.com.au