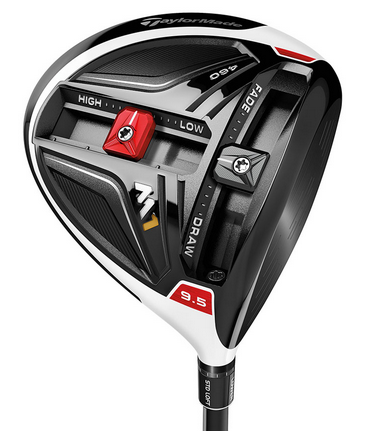 The M1 has a multi-material construction - featuring an ultra-thin, ultra-light and high-strength carbon composite crown – that unlocks breakthroughs in distance, playability, and feel for all golfers.
Each golfer has a unique swing and in the past it's been challenging to provide ideal launch conditions to all player types with a single club. The construction of M1 allows better players to create the shot they want and other golfers, the shot they need.
Personal Fit System
Three-step head adjustment system of loft sleeve, Front Track & Back Track - plus three featured stock shaft offerings - M1 gives golfers a tour-level fitting without the truck.
Loft Sleeve – A 4° (+/- 2°), 12-position, sleeve for the golfers preference of face angle, loft and lie. Available Lofts: 8.5º, 9.5º, 10.5 º, 12º
The M1 Driver comes in 2 head models (460cc and 430cc) and 3 after-market stock shafts, designed for multiple swing types:
· High Launch (Fujikura Pro 60)
· Mid Launch (Mitsubishi KuraKage Tini Silver 60)
· Low Launch (Aldila Rogue Silver 70)
Multi-Material Construction
M stands for Multi-Material and it's the key that unlocks performance in M1. This construction is highlighted by our proprietary 7-layer Carbon Composite Crown that is precision-formed and built ultra-thin, ultra-lite and high strength to maximize weight savings. This addition has allowed us to build a weight-loaded sole and move overall clubhead weight (and, thus, the center-of-gravity) lower for a more efficient power transfer; giving golfers more ball speed.
The Carbon Composite Crown as also allowed us to give golfers 25 grams of multi-directional adjustability, allowing them to personalize launch conditions – fit to their swing - and optimize ball-flight, trajectory and, ultimately, distance.
T-Track System
To make our longest, just that for a wide range of golfers, we needed to expand the settings to give golfers more options to personalize performance to fit their game. M1 features the revolutionary T-Track System that consists of both a Front and back track with 25 grams of adjustable weight:
· Front Track: One - 15 gram weights to provide multiple draw, neutral and fade settings
· Back Track: One – 10 gram weight adjusts for multiple high, medium and low launch and spin settings
The revolutionary T-Track System gives golfers the option to personalize their M1 to their exact specifications, leading to optimal performance and distance to fit their swing.