ausgolf has just about every ranking list ever published on Australia's best golf courses. From The Golf Course Guide, Golf Digest, Golf Australia and Golf Magazine. We present all the Top 100 Golf Course Rankings - sometimes incorrectly called Golf Course Ratings, the term used to denote course difficulty (click here for information)
We also include a selection and comparison of World Golf Course Ranking lists and show how the Aussie courses fare.
Please select from the navigation menu.
We invite your feedback, email us or visit us on Facebook
2024 GOLF Course Guide Top 100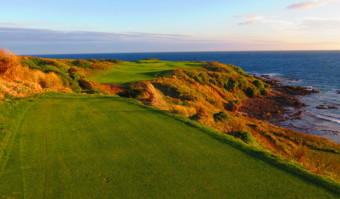 The GOLF Course Guide's list of Australia's Best Courses available to Green Fee players includes the stunning Cape Wickham Links (pictured) on King Island, followed by Barnbougle Dunes and Lost Farm. That's three Tasmanian stars at the very pinnacle of Australian golf. read more...
Compare all the Top 100 Public Access Course Rankings
2022 Australia's Top 100 Golf Courses, Australian Golf Digest Magazine
2022 Golf Australia Magazine Top 100
We take a look at the methodology and the results from the latest ranking lists.
Golf Course rankings are always controversial, and in 2012 Golf Digest came out with a direct swipe at their rival Golf Australia's process. So which list really is the best, what's the best process, and what criteria should be used? Read more…

We invite your feedback, email us or have your say - visit us on Facebook