Green Fee Discounts at Australian Golf Courses - 2024 GOLF Course Guide


Order Now and Save
The 2024 GOLF Course Guide is OUT NOW and features;
368 pages of FULL COLOUR - OVER 200 COURSE PHOTOS
Save up to 50% and more on Green Fees
Save at Driving Ranges
Save at 275 venues Australia Wide
Click HERE to visit our online store and checkout the best deal on the golf course guide.
AUSTRALIA'S UNCHALLENGED AUTHORITY PROVIDES A GUIDE TO OVER 700 PUBLIC COURSES AND PRIVATE CLUBS. Includes discounts on green fees at leading Australian golf clubs.
COURSE LOCATION MAPS FOR EVERY STATE OF AUSTRALIA.
LATEST TOP 100 COURSE RANKINGS
Courses ranked by DESIGN / CONDITIONS / AESTHETICS
Discover all our golfing treasures in this brilliant book, and pay specially
reduced green fees (THERE ARE MANY COURSES WHERE YOU SAVE MORE THAN THE COST OF THE BOOK IN A SINGLE ROUND) available only upon presentation of The Golf Course Guide – Australia's BEST VALUE DISCOUNT GREEN FEE SCHEME.
BEST GREEN FEE GUARANTEE
Wherever this symbol appears in the Guide, users are able to access any Green Fee Deal that may be offered for limited times via Internet 'deal providers'. Simply ask at time of booking, pay the Deal Price and present Guide when you play.
This guarantee is subject to all Terms and Conditions of the Deal including: Must book in advance - Tee times subject to availability - Blackout dates may apply - Limits may apply - You surrender any other offer provided in the Guide
Now with discounts and access.Featuring;
Public Courses
Private Clubs with Green Fee Times
Course Rankings
Location Maps
Phone Numbers
Green Fee and Hire Costs
Comp and Visitor Times
Website and E-mail
"The book that pays for itself"
Here's how the Guide information is presented (sample page from the 2022 edition):
And here's a list of Best Savings from 2022 Edition: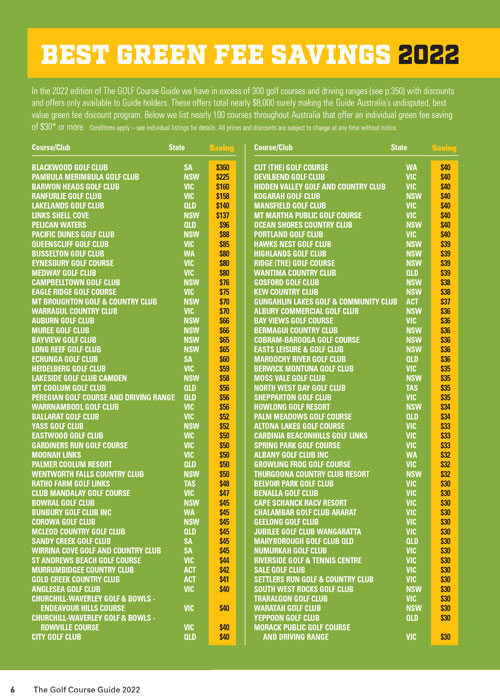 To see savings and conditions at ANY course search our database - The GOLF Course Guide is ausgolf's principal source of course information
CLICK HERE TO VISIT OUR ONLINE STORE AND CHECK OUT THE BEST DEAL ON THE GOLF COURSE GUIDE
What our customers say
"Last year on a 6 week trip we saved over $400 using your guide, fabulous value for money."
Phil
"Great information, maps and details on all the best courses. Thanks guys."
Steve
"Bought my hubby a copy for Christmas and he loves it".
Jenna
"It's my golfing Bible. I have purchased it for nearly 20 years now - thanks Golf Publishing"
B Whitehead