The GOLF Course Guide presents the most comprehensive assessment of where to play golf in Australia – with separate lists showing how our judges ranked the candidates in each of three key criteria: Design, Conditions and Aesthetics. "As always, courses must be available for green fee players most of the year. The list includes all Public Courses; all Resort Courses (with accommodation on site - ranked separately), and many Private Members Clubs.
Overall Rankings (Click on any course name to see full Guide listing and Green Fee Savings)
For comparisons with other ranking authorities click here
Editorial by Selwyn Berg (Editor - The GOLF Course Guide)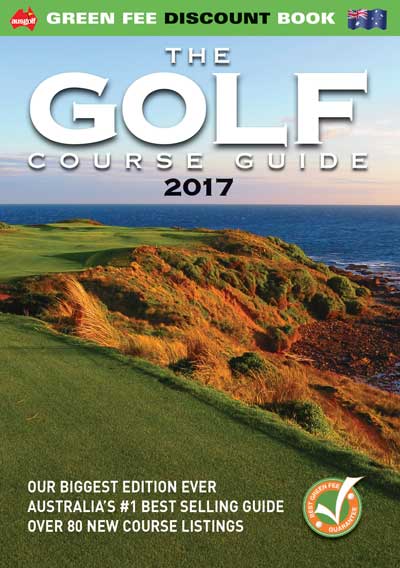 Making its debut at #1 on our list is the spectacular Cape Wickham links on King Island, Tasmania (pictured on the front cover this year). The team of Duncan Andrews (owner), Darius Oliver (consultant and co-designer) and Mike DeVries (Architect) has created the most exciting golf course in Australia and the most fun to play when the wind is not too extreme. Cape Wickham, with its superb site and routing; stunning visuals of sea, cliffs and lighthouse, and holes that dramatically exploit these attributes is in our opinion the greatest golf course built in this country since Mackenzie's visit a century ago. Of our nine judges who have played both Cape Wickham and Barnbougle Dunes (ranked #2), five ranked CW ahead for Design resulting in a narrow margin of 0.2 points in this category. CW was clearly outpointed for Conditioning (ranked #14) but was ranked almost a point ahead for Aesthetics – the juxtaposition of rolling fairways and smooth greens against ragged rocks and rugged surf making CW the most visually stunning layout. We expect the course to widen its overall margin as the fescue playing surfaces mature, and judges who scored the course most recently indicate that conditioning is coming along nicely.
We had hoped to include King Island's Ocean Dunes in this year's rankings, but severe drought hampered growing in and the owners requested that we held off until our next assessment period (Sep 2016 to Sep 2017
).
Barnbougle Lost Farm retained the #3 spot, thus our top trio are all located on Tasmania's Bass Strait coastline, feature all-fescue fairways and greens, and are designed by international architects.
The course that ushered in the renaissance of quality links style layouts in Australia twenty years ago, The Dunes on Victoria's Mornington Peninsula ranked #4, with its neighbour St Andrews Beach #5 moving just ahead of The Links Kennedy Bay in WA #6.
Thus our top six courses are all recently built coastal links that offer green fee access all year round. With the traditional links at Barwon Heads at #8 and the links at Thirteenth Beach at #9 Australian golfers and international visitors are spoiled for choice of sporty seaside golf presented in immaculate condition.
Joondalup #7 with its near-perfect conditioning (ranked #3 Conditions) and thrilling design, and Bonville #10 are the only inland courses in our Top 10. Ranked just behind the Bass Strait trio for Aesthetics at #4, Bonville remains, for many, the most beautiful and tranquil course in Australia. A continuing focus on small improvements sees Bonville achieve its highest ranking ever, and reflects our policy to reward the Design of courses that are challenging yet fun to play for all levels of golfer, rather than to focus purely on architecture that tests both length and accuracy from low handicap golfers.
Despite some additions to our judging panel this year, significant movements up or down our list were rare. Cape Schanck moved up several places to #29 as our panel noted small improvements to course conditioning and awarded a significantly better score for Aesthetics. Improved conditioning was largely responsible for Horsham improving to #38. Settlers Run #42, returns to our publication after missing last year – another Private Club offering green fee access.
Club Mandalay moved up 15 places to #45 as more judges recognized the Design and improved Conditioning. Royal Pines benefitted from a Graham Marsh redesign which has created a much more interesting Championship Course – up 24 spots to #46. The Bungool course at Riverside Oaks entered our rankings at #52, Black Bull at Yarrawonga leapt to #56 as conditions improved and the hidden gem of a course at Murwillumbah jumped to #59 with better scores across all criteria.
Last year ranked just outside our Top 100, new entrants are Wollongong, Tuncurry, Tallwoods, Copperclub, Leongatha, Tocumwal Presidents, and Cypress Lakes.
Narrowly missing this year were Albany, The Springs, Bunbury, Waterford Valley, Sun City, McCracken, Byron Bay, Anglesea and Port Macquarie.
For next year we eagerly anticipate the inclusion of Ocean Dunes and also Kooralbyn Valley near Beaudesert – Australia's first golf resort, built in 1973, which recently re-opened after tragically lying in ruin for nearly a decade.
Minor changes to our judging panel, the courses they visited through the year or the timing of their visits all affect the outcome, so as always we recommend that our readers use these lists for guidance only.
---
The GOLF Course Guide established a numerical course ranking system in 1998 and was the first Australian publication to do that. The Guide's criteria are

Course Design (40% weighting): How each hole presents an enjoyable, even thrilling challenge to golfers of all abilities from scratch markers to high handicappers and shorter hitters. The variety of different holes that make up the course, and the variety of shots that they require to test every facet of your game. The strategic design of each hole - where hazards come into play, reward for risk takers that is in proportion to the degree of risk, with a safer/easier option, maybe with an additional stroke, for those who choose not to take the risk.
Courses that offer higher handicappers an exciting test will find themselves rated better in this Guide, and courses that are really only playable by low markers will be ranked lower. Courses with two separate 18s considered as two courses; where 27 holes available, the "best" selected.
Course Conditions (40% weighting): Year round playing conditions (from best to worst season) and course maintenance of greens (greatest weighting), fairways, tees, roughs and hazards.
In contrast with other lists, this weighting was arrived at by listening to Guide readers – Green Fee players – who dictated that conditioning was important for an enjoyable round.
Mackenzie decreed that "The course should be equally good during winter and summer, the texture of the greens and fairways should be perfect, and the approaches should have the same consistency as the greens". More than just firm greens and smooth fairways – our players agree with the good Doctor: "There should be a complete absence of the annoyance and irritation caused by the necessity of searching for lost balls", they feel that balls should not plug in a bunker face, or be held up by thick rough on the edge of a bunker.
All these aspects of an enjoyable round are taken into account under Conditions.
Course Aesthetics (20% weighting): The obvious beauty of the setting and also that very subjective quality of ambience and tranquillity that allows the golfer to lose himself in his environment.
---
JUDGES
Judges scores are mathematically adjusted to account for any particular harshness or leniency and spurious results are eliminated.
Panellists were asked to score only courses they had played. Colleagues who play certain courses frequently were consulted to more accurately assess year round conditions.
Where the Guide really delivers on its objective to 'guide' readers to courses they will enjoy is by publishing three distinct lists – rankings by Design, Conditions and Aesthetics – allowing readers effectively to select their own criteria and weightings. For some golfers, the thrill of playing golf in a stunning (eg coastal clifftop) environment can far outweigh lacklustre design strategy, and even mediocre fairway conditions. For these players, our allocation of only 20% weighting will seem inadequate, and they should seek out courses from our Best Aesthetics list, rather than the overall rankings.
The Judges - We recognize the subjective nature of our rankings, and suggest their use as a guide only.
If you'd like to have your say about any of our lists go to www.ausgolf.com.au/course-rankings
The Judges
We recognize the subjective nature of our rankings, and suggest their use as a guide only.
If you'd like to have your say about any of our lists go to www.ausgolf.com.au/course-rankings
George Begg
Secretary/Treasurer of the Australian Golf Writers Association. Handicap 15, member at Sanctuary Lakes, also a member at Altona Lakes.
Selwyn Berg
The Managing Editor of ausgolf and the Editor and Publisher of The Golf Course Guide. Handicap 13, member at Commonwealth.
Scott Blair-West
A member at Spring Valley and The National GC and sometimes plays to a handicap of 4. He enjoys golf travel within Australia and internationally, looking forward to Scotland in 2017.
Graeme Bond
Well known golf reporter on Fairfax Radio for 18 years. A member at the National, handicap 7.
Graham Holmes
A member at Commonwealth and Royal Hobart, handicap 7. He travels the world extensively playing golf.
Loren Justins
Handicap 5, member at Royal Queensland and has played at many international courses during extensive work travel.
Steve Keipert
Has worked in golf media for 15 years. He is the deputy editor of Golf Australia magazine. His handicap is 3, member at Stonecutters Ridge.
Garry Kennedy
The General Manager of the GOLF Course Guide and Editor of Hacker Golf Magazine. Plays off 16 at Howlong but unfortunately rarely plays these days – something he hopes to address in 2017!
Jonathan McCleery
Plays off a handicap of 7. Golfing author, golf course investor and former Riversdale Club Captain
Peter Nolan
Keen golfer, handicap 9, member at Rosanna. He maintains his love for the game, despite the fact that the game steadfastly refuses to love him back!
Kevin Pallier
A panellist for a number of golfing publications. He is a member at Wollongong Golf Club with a handicap of 12.
Bill Parker
Struggles to retain a single figure handicap. He travels and plays extensively based and playing socially south of Perth.
Andrew Thomson
Handicap 5 and is a member of Brisbane Golf Club. He has travelled extensively nationally and internationally playing great golf courses
Leon Wiegard
A Life member at Portsea, Patron at Clifton Springs, a member at Commonwealth and international golf tour organizer. Handicap has blown out to 17 (lowest was 8).
David Worley
A member at Commonwealth, Sorrento and Moonah Links, handicap 11. Author of comprehensive books on British Links.
We gratefully acknowledge the input of all judges. (GA Handicaps quoted).