Brookwater Golf & Country Club
Feature Course
Brookwater Golf & Country Club
Course Features, Course Tour and Membership details
Description

The Greg Norman designed course, bordered by tall Eucalypts, requires accuracy from the tee to enable safe approach to the flag. With undulating fairways and dramatic bunkering Brookwater is a must play. Greens - Tifdwarf; Fairways - GN1; Tees - Santa Ana. Soft spikes are preferred. Competitions on Wednesday, Saturday and Sunday. Bookings essential. Strict dress code.

Address

1 Tournament Drive

Brookwater

QLD

4300

Australia

Directions
(Take exit 33 off Centenary Hwy, turn L at lights, continue along Augusta Parkway, turn right at 1st roundabout into Tournament Drive, proceed to bag drop before parking)
Club Phone

(07) 3814 5500

Fax
(07) 3814 5700
Email

golfshop@brookwatergolf.com

Website

www.brookwater.com.au

PGA Professionals
Ian Triggs (Teaching Professional), John Collins (Head Golf Professional)
Hire
P.O.A
Practice
Practice range including grass hitting bays, target and putting facilities
Club House
restaurant, function spaces, lounge, golf shop, locker rooms, club storage, outdoor entertainment area. A variety of memberships are available.
Green Fees
P.O.A.
Course information sourced from the 2020 edition of The GOLF Course Guide, Click here for details
On Course Living
Course Details
| | |
| --- | --- |
| Course | BROOKWATER |
| Holes | 18 |
| Length | 6505 |
| Slope (max) | 146 |
| GCG Ranking † | 22 |
| Design Rank † | 22 |
| Conditions Rank | 25 |
| Aesthetics Rank † | 28 |
| Designer | Greg Norman, Bob Harrison |
Latest available Course Rankings from The Golf Course Guide click here for details.
Back to Brisbane
---
Course Features, Course Tour and Membership details
WELCOME TO BROOKWATER

Nestled in one of the most beautiful pockets of natural bushland only 35 minutes from the Brisbane CBD. Brookwater is a premier residential golf community where lush greens, parklands and natural bushland meet modern residential living. Welcome to life on the course.
---
Brookwater is a par 72, tournament standard course measuring 6,469 metres. The Par 5, 13th hole is the longest at 550 metres. Featuring long, narrow fairways and challenging bunker locations which golfers of all levels can enjoy.
Complementing the naturally undulating terrain, each hole features distinctive Australian bushland landscapes including natural water features, spectacular rock formations and stands of ghost gums. The ambitious design weaves up and down rolling terrain encompassing two nine-hole loops. Its varied terrain, strategic design and landscaping makes it a course of outstanding character and the perfect environment for you to enjoy a day of premium golf.
To book a round online click on the link below. As part of the booking process you will be requested to create a login which can then be used to book and pay for all tee times.
For public bookings click here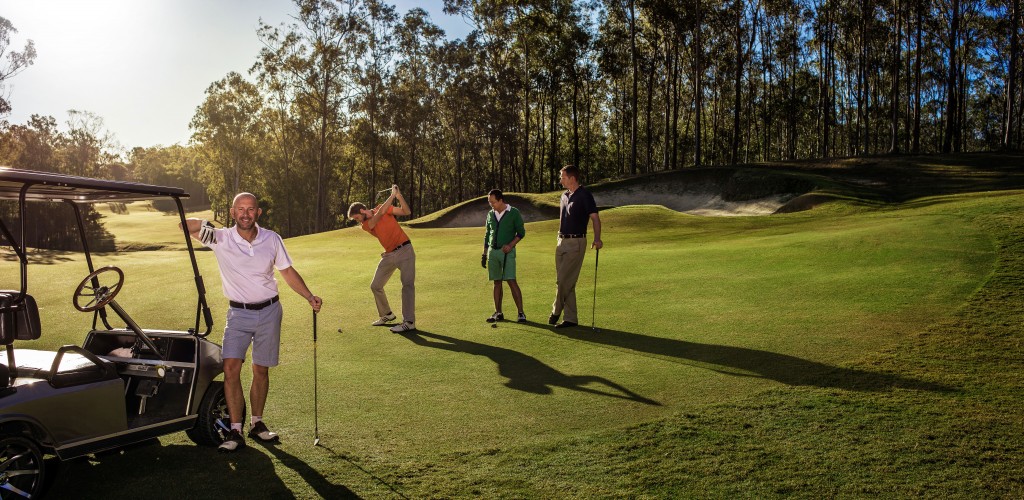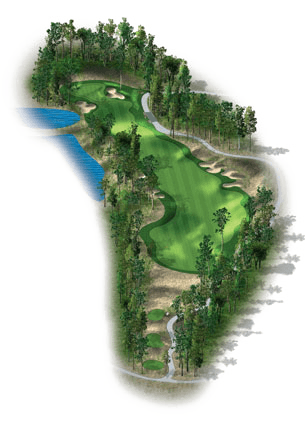 TOUR THE COURSE
The Brookwater golf course layout is all thanks to Greg Norman's inspired design, with each hole a perfect mix of challenge and playability. Thanks to recent renovations restoring the course to its original design, the Brookwater golf course layout is now even better than ever.
Brookwater's redesigned course with improved playability and sustainability is without a doubt Queensland's finest golf experience. The spectacular 18 hole, par 72 championship golf course layout meanders its way through naturally undulating Australian bushland, with signature bunkering and beautiful inclusion of natural waterways. View the beautiful illustrated golf course maps along with an insight into playing each hole. Click here
CORPORATE GOLF
From a group of 12 to a crowd of 144, we have a range of value-for-money corporate packages that cater to every need.
Brookwater is a must for all lovers of golf and is the perfect venue for your next tour or social club event. For Golf Groups of 12 or more people, we offer specialised rates and can tailor a Golf Package to suit you. To start planning your next event, speak to our Golf Team today. Click here for details
MEMBERSHIP
Membership gives you the freedom to play Brookwater when you want, as much as you want, and access to exclusive clubhouse events and golf days. If you see golf as a lifestyle choice and not just a pastime, then an individual membership will be what you're looking for. There are a number of membership options to suit all needs.
Experience Brookwater
We invite you to experience Brookwater. This membership is great for beginners or intermediate players wanting to improve their game. Offering lessons from Brookwater's resident PGA Professional, this membership will ensure you enjoy all the benefits of the Brookwater Golf Course.
Advantage Brookwater
If you are looking for a full playing membership, the Brookwater Advantage Membership is the perfect option, offering complete flexibility for golfers to enjoy attractive benefits and privileges at the Greg Norman designed, award winning Brookwater Golf Course.
Junior
The best golfers in the world all had a home course. And what place for the next Jason Day, Adam Scott or Karrie Webb to hone their skills.
Click here for all membership options
CAFÉ & BAR
The Brookwater Café and Bar is open 7 days a week for lunch, Dinner Thursday to Sunday and Breakfast from 7am seven days a week.
The Brookwater Café and Bar offers a relaxed bar and dining experience, with a warm welcoming atmosphere and friendly service, perfect for date night or catching up with friends and family to enjoy fresh modern cuisine and old favourites with a millennial twist along with a fabulous view.
Our Head Chef ensures tantalising flavours and fresh produce won't leave you with menu fatigue and our Resident Pastry Chef will ensure that you won't be able to say no to dessert!
DRIVING RANGE
Experience on course conditions at the Brookwater Golf Course Driving Range which offers 12 Public and 10 Member grass hitting bays, chipping and bunker areas and a large putting green, perfect for improving both your long and short game. The Brookwater Golf Driving Range is open 7 days a week and is the perfect place to practise your golf.
CORPORATE FUNCTIONS & EVENTS
Brookwater is the naturally inviting venue for all corporate events, including conferences, seminars, presentations, product launches, board meetings, tradeshows, exhibitions, team building days or staff meetings (whether or not you wish to include any on course activities).
Brookwater can hold up to 500 people and has a variety of function rooms and event spaces to accommodate any corporate event group, whether small teams or departments to whole companies, and all with stunning views of the Brookwater's scenic environment.
Whether you're organising a small get-together, a gala dinner, wedding or business conference, Brookwater is the ideal venue for your next special event.
Brookwater Golf & Country Club is also the perfect setting for celebrating all of life's special occasions. Significant anniversaries, Christmas dinners, or small birthday lunches are perfect at the café and bar, providing a relaxed bar and dining experience, with a warm welcoming atmosphere, friendly service, and selection of local and imported beer, wine and cocktails.