Australia has a diversity of climate and topography that provides for the establishment of fine courses of every variety. From seaside 'links' styles around the southern coastlines to courses carved from tropical rainforests in the north, we are blessed not only with spectacular international resort courses by modern designers, but also with great classic courses dating back to the golden age of Dr. Alister MacKenzie and even earlier. Australia's own eucalypts and bushlands have provided golf architects with a sympathetic palette from which to create truly indigenous courses, ranging from the humblest to the most magnificent.

Perhaps best of all, nowhere on earth is golf more accessible or affordable than in Australia.
The last two decades have seen the construction of a number of world class links style layouts around the South East coastline of Victoria, Tasmania, and most recently two standout links on King Island, between the Mainland and Tasmania. Cape Wickham (right) has been ranked amongst the top 20 courses in the world upon debut in 2016, with Barnbougle Dunes and Lost Farm not far behind.
New South Wales offers many fine golfing destinations along the Murray River border with Victoria. The most notable being Murray Downs (left), Yarrawonga, Cobram-Barooga, Rich River, Tocumwal, Corowa, Coomealla, Thurgoona, Barham, and Albury.

Victorians however, have been unable to restrict Australia's pre-eminent golfer/designer to his Native State, and Peter Thomson's work is to be found throughout the continent. A lover of the links style, it is high praise indeed that Thomson compares his creation at Camden Lakeside, just outside Sydney's CBD with classic links of Great Britain. "Nothing has been spared in the creation of first class turf for fairways and greens. If you become familiar with this course, you can say that you've paid a visit to St. Andrews and Carnoustie, Troon, Birkdale and St. Georges. There is a little bit of all of them here." The elegant clubhouse affords the opportunity for relaxed dining before heading back to the city.

Tura Beach on the Sapphire Coast is a Thomson-Wolveridge design of striking contrasts. Although the lower reaches have a links feel, it is the dramatic "million dollar" ocean views from the elevated front nine for which the course is famous. Further north on the Sapphire Coast Bermagui Country Club affords similar panoramic views. The club is renowned for its excellent greens. At Narooma, home of the famous "Hogan's Hole", a par three played across the ocean, the front nine is built right on the edge of cliff tops overlooking the Pacific. The layout has been compared with Pebble Beach. Further north still is the charming 27-hole layout of the Catalina Country Club at Batemans Bay. Water hazards here are of the inland variety.

Just north of Newcastle is the highly acclaimed Horizons Resort at Salamander Bay. This impressive layout was designed by Graham Marsh and Ross Watson and boasts luxurious on-course accommodation.

Golfers travelling along the northern NSW coast simply must not miss Bonville International just south of Coffs Harbour. Carved out of a flooded gums forest, this uniquely beautiful course is Australia's answer to Augusta National. Accommodation lines the first fairway and the sumptuous clubhouse provides fine dining, golf shop and locker facilities.

Visitors to the national capital should now be sure to pack their clubs, as Bruce Devlin's Gold Creek opened to rave reviews in 1996. Facilities include Canberra's most scenic driving range, three full-scale practice holes and a championship course set in beautiful countryside. Take a friend because Guide holders receive two rounds for the price of one.

The greatest concentration of resorts is to be found on Queensland's Gold Coast. Many were formed from reclaimed swamps, so that their common features are gently undulating fairways, slightly elevated above a series of interconnected lakes and waterways. Tourism and residential developments provided the finance and the impetus for the remarkable growth spurt over the last twenty years. Established names such as Palm Meadows, Parkwood International and Gainsborough Greens are today challenged by new arrivals like Paradise Springs. Turfed with the latest hybrid grasses, this layout is consistently in peak condition, and provides a tough test of golf with its many water hazards. Club golfers will relish the opportunity to enter the competitions here, and enjoy a drink in the imposing old Queenslander clubhouse set on a hillside overlooking the course.

To answer such challenges from the newcomers, Sanctuary Cove Resort has just spent over $1million refurbishing the Palms golf course. This course is open daily to the public, whilst the Pines course is reserved for members and Hyatt Regency hotel guests. It's worth staying just to play this Arnold Palmer design, let alone experience the full range of health and leisure services provided by the resort.

A contrast to the Gold Coast resort courses is to be found in the hinterland just outside Beaudesert. Here the Kooralbyn Hotel Resort provides every luxury including swimming, tennis, horse riding and health club, plus a championship golf course that is respected by many top Pros. The course winds through hills and valleys teaming with kangaroo and other native wildlife. Tackle it on a Thursday in the Copperhead Challenge, Australia's longest running open stroke competition, if you really feel good enough. A similar challenge exists at Robina Woods on the Gold Coast, where the steeply undulating, immaculately groomed fairways are set amongst natural eucalypts.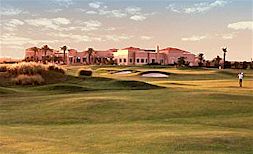 Considered by many to be the finest golf course in Queensland is Peter Thomson's Links at Hope Island (right). The grooming is immaculate from the softest bent grass greens to the wintergreen couch fairways and the white sand bunkers. It may not be a natural links in the classic style, but it sure does play like one. Think twice before you tackle it in the wind. The imposing contemporary Venetian style clubhouse is open to all with magnificent locker rooms, casual and fine dining, or simply a comfortable lounge or bar for that drink after the game. There's under cover car parking too.

Queensland's Sunshine Coast has its share of great golf courses too; my favourite being Novotel Twin Waters Resort, another Thomson-Wolveridge masterpiece, where the magnificent fairways just seem to belong amongst the Melaleuca scrub, and it is so easy to become completely absorbed in the natural environment. Whilst the golf club has its own restaurant, the resort features a range of dining options including the famous "Lily's on the Lagoon". Noosa Springs, opened in 1999 and already ranked amonst Australia's Top 100 courses is another gem on the Sunshine Coast.

Just south of Bundaberg on the Turtle Coast overlooking the Great Barrier Reef lies the unique Coral Cove Resort. This course combines sculpted sand dunes, wetlands and open wooded country with amazing coral formations. The course architect was Robert Johnson Sr., designer of Bonville. Guide holders receive two games for the price of one.

The courses of North Queensland present golfers with a range of dramatic and scenic possibilities. Rydges Capricorn International offers two options, the gentler Old Course by Thomson-Wolveridge or the stunning and challenging new Karl Litten design. Stay in the resort and play them both with a special offer for Guide holders.

For sheer indulgence, it's hard to beat the conditions at Turtle Point, the golf course at Laguna Quays Resort just south of Proserpine. David Graham's first Australian commission certainly is special, with fairways sown with grass varieties normally reserved for tropical greens. The resort features every five star luxury to match the quality of the turf.

North of Cairns lies the awesome challenge of Paradise Palms. Designed by Graham Marsh, the course has been nominated by none other than Greg Norman as one of the world's most challenging resort layouts. It's a fully public facility, but the luxurious trappings of its gracious old Queenslander clubhouse with restaurants, atrium gallery, tennis and swimming would befit any private club.

Where there's tourism you'll find a golf course, and the Red Centre is no exception. With three resort hotels on course, including the casino, Alice Springs Golf Club provides a visual contrast that simply has to be experienced. Yet another Thomson-Wolveridge design, it's been rated amongst the top ten desert courses worldwide.

The mighty Murray River continues to dictate where people live, farm and golf as it flows through South Australia. Berri Golf Club in the Big River Country provides lush green fully irrigated couch fairways amongst the scrub, a real oasis in the Mallee dust. The golf is inexpensive, and the resort features on course accommodation, dining and gaming. Nearby Renmark Golf Club is another gently undulating all couch layout.

Visitors to South Australia's famous wineries in the Padthaway and Coonawarra region have golfing options too. Stay at one of Australia's most famous country homesteads, the gracious Victorian mansion at Padthaway, and golf at nearby Naracoorte or Lucindale is free. The on-site cellar door offers regional wines for tasting. A little further south, two of the State's best country courses are Millicent and Mt Gambier.

Just under an hour from Adelaide on the Fleurieu Coastline lies a new golf masterpiece – a true links in the Scottish and Irish traditions. The Links Lady Bay, designed by Newton, Grant and Spencer, is destined to become one of Australia's finest seaside tests with the second nine holes scheduled for completion early 2000.

Sand, undulation and kangaroos typify Western Australian golf. The wonderful limestone base that extends from Yanchep to Busselton is also famous for the grand Tuart gums that thrive only in these alkaline conditions. Sun City Country Club marks the northern tip of this golfing wonderland. The course is set on beautifully undulating sandy scrub country, with generous fairways lined by planted trees. Full clubhouse and practice facilities cater for all golf and social requirements.

Home to Australia's richest tournament, the Heineken Classic, The Vines is probably the best known Perth resort golf course, and certainly Joondalup is the most dramatic. Renowned architect Robert Trent Jones Jr himself calls this spectacular site "one of the great golf courses in the game". Given the awesome reputation of this designer, and having trembled on the tee, one of the purest pleasures in golf can come from discovering that a well struck shot here is fairly rewarded. A stay in the plush resort hotel affords the opportunity to experience all three of the diverse nines. Many of the richly appointed rooms overlook the lagoon-style swimming pool, and there are also self-contained villas set in natural bushland.

Golfers in need of tuition whilst in Perth may wish to visit Collier Park, where Ross Metherell, coach to young Aussie stars Stephen Leaney and Greg Chalmers heads an impressive teaching school. The 27-hole, fully public layout on beautifully undulating sandbelt pampers visitors with many of the trappings of a private club, and offers courses designed by both Thomson-Wolveridge and Michael Coate. Carramar is another Perth public golf course in the resort style with excellent coaching facilities.

Just 45 minutes south of Perth lies a 15-km stretch of coastline rapidly gaining fame as the WA Golf Coast. Residential land development including canal construction on the scale previously seen only in southern Queensland is the driving force. At the heart of this phenomenal growth is the city of Mandurah, a popular seaside destination at the head of the Peel Inlet with an array of accommodation and eateries. With the Harvey River Estuary, the region has an incredible 130 square km of waterways and wetlands where birds from Siberia and Alaska migrate to feed. Well-documented management strategies aim to preserve this precious heritage.

Meadow Springs Country Club at Mandurah is managed by former touring and teaching Pro, tour promoter and media personality John Hadley. This great course reflects architect Robert Trent Jones Jr. at his most mellow as it meanders through avenues of ancient Tuarts. The limestone and sand base means golf carts can traverse the fairways throughout the year on turf which compares favourably with the Melbourne sand belt. The two finishing holes bring sparkling lakes into play in front of the magnificent clubhouse and practice range. Fifty on-course accommodation suites are scheduled for completion by July 2000.

A few kilometres up the Golf Coast lies Secret Harbour "The Links by the Sea" created by Graham Marsh amongst wonderful coastal sand dunes and preserved wetlands. The full eighteen holes are now in play, and have been lavishly praised by Gary Player and Lee Trevino.

At the Northern tip of the Golf Coast lies WA's newest course and her most authentic links experience, Kennedy Bay. Every links feature is present in this Baker-Finch/Mackay/Coate masterpiece. Revetted pot bunkers, hard, bouncy tight fairways and slick greens designed to be reached with a low running shot that avoids the wind, rather than with a 'crude pitch'. The coastal heath covering the ever-present sand dunes reminds one of Scotland, and the ocean can be heard for at least nine holes and glimpsed from a couple. There are no lavish trappings yet, but a major resort complex is planned.

Bunbury Golf Club, just two hours South of Perth has always been a highly regarded test of golf, and now the region also offers a resort style course in The Sanctuary at Pelican Point, designed by Michael Coate. With twelve water holes and 64 sand bunkers the course can challenge low markers, whilst the generous fairways and gentle greens cater for all. The resort complex is now open with deluxe on course accommodation, swimming, dining and conference facilities.

Heading further south there are several worthwhile golfing diversions en route to the wine country where Margaret River Golf Club welcomes visitors for a game. There's even a "hidden gem" of an unpretentious little nine-hole country course at Binningup Beach. Capel is a good test of golf in a healthy club atmosphere on undulating couch fairways and slick bent grass greens. Driving accuracy is crucial, and the thickly wooded bush that divides the fairways houses many kangaroos.

Busselton, home to Stephen Leaney, is a peaceful rural setting with some long holes, especially in the wind. It marks the southern extremity of Tuart country. Dunsborough Lakes features excellent couch fairways and plenty of water in the resort style, but also offers club membership and holds regular competitions.

The Cape Leeuwin Lighthouse overlooks both the Southern and Indian Oceans, and not far away on the elevated cliff tops sits The Augusta Golf Club. Of course they stage an annual Masters Tournament where the prize is a green jacket. There the similarity ends, as this is a genuine Aussie sand scrape course with monstrous, multi-headed, fire-scarred Black Boys adorning the hardy Kikuyu fairways.

The oldest settlement in WA is four hours South of Perth and here The Albany Golf Club on Middleton Beach also has a long heritage, having recently celebrated its centenary. Formed in the true "links" tradition amongst natural sand dunes shaped by wind and sea, man simply smoothed a few areas and called them "greens". The members are rightly proud of what must surely be the most natural links style course in the State, a course beloved by golfers such as Craig Parry because, exposed to the wind, it always provides a new challenge.

Even golfers who live in Paradise deserve an extra treat – so Aussies should indulge themselves too - don't leave all this for the foreign tourists.

For travel advice and information email travel@ausgolf.com.au