by Selwyn Berg
With around 1500 courses, Australia has more golf courses per head of population than almost any other country. And with a climate to suit every taste and every season across her vast shores, it's always a great time to visit and enjoy the finest golf in the world.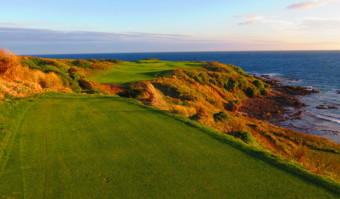 There are International standard Resort Courses available to all and ready to cater for both holidaymakers and corporate guests. The last two decades have witnessed the building of several world class links layouts, most notably Cape Wickham (right) on King Island and two courses at Barnbougle in Tasmania.
Australia's greatest courses rank with the very best. Melbourne's famous sandbelt contains layouts such as the Composite Course at Royal Melbourne, venue for the President's Cup played in 1998 and 2011, Metropolitan and Kingston Heath. The legendary Dr Alister Mackenzie, acknowledged as the finest golf course architect the world has ever seen, designed Royal Melbourne's West, The Heath and Royal Adelaide. He visited Melbourne, Adelaide and Sydney from his native Scotland in the late 1920's and had a lasting influence on golf course design in this country.

The Australian in Sydney bears his mark, and some maintain that New South Wales does too. His philosophy of strategic hole design, a balance of risk and reward - where an aggressive approach, properly executed, sets up a birdie opportunity for the low marker, but a safer route exists for the average club golfer - is evident in almost every good golf hole today. Three of Mackenzie's courses (Augusta National, Cypress Point and RM) are still ranked in the world's top handful.

Serious golfers planning to visit our shores and wishing to play at a leading Club are advised to write to the manager well in advance, giving details of their Club affiliations. Interstate and overseas visitors who are club members elsewhere can generally play by arrangement as "Manager introduced" guests on certain days, although local residents need to be accompanied guests of members.

But golf in Australia is much, much more than a handful of the world's finest championship courses. Our Scottish and Irish ancestors were simple folk, and every country town has at least a nine hole paddock, many of them with sand scrapes instead of grass greens. The oldest course, "Ratho" at Bothwell in Tasmania dates back to the 1830's. It is an isolated nine-hole layout with square greens, fenced to keep out the livestock, a site that will not be uncommon to New Zealanders. Throughout the country golf is played by rich and poor alike, and if you travel with your clubs you'll never be short of a game and some of the most generous hospitality after your round. Whilst the lavish trappings of expensive city clubs such as Commonwealth and The Australian will not be found, the beer tastes just as good in a fibro and tin shed, and a collar and tie will not be required.


There are a great variety of golf terrains throughout Australia, from coastal links to heavily wooded mountain country. Many courses set out to recreate the flora of former homelands, but for me the natural bush and native trees often produce the most pleasing results. Nowhere is this more evident than on the many fine courses along the Murray River, which divides Victoria from New South Wales.
The availability of fresh water in a hot, dry Summer environment led the early farming settlers to establish courses which flourished with the flow of poker machine players from Bolte's gambling-deprived Victoria. Many courses boast fine clubhouses and 27, 36, even 45 holes of golf (at Yarrawonga). Set amongst majestic river Red Gums, these courses are perhaps the most uniquely Australian. Cobram-Barooga (above) and Corowa are great examples of well-established river courses. Fine newer examples include Rich River and Murray Downs.

Even in the metropolitan areas we are blessed with a variety of public courses with very modest green fees, and conditions that range right up to those at the private clubs. As well as nurturing the budding Greg Normans and Karrie Webbs amongst our school children, these courses are well patronised by the many social golfers who do not number amongst the 600,000 members at the 1500 private clubs.

At the top end of the scale are the lavish resort style layouts that opened on the Queensland coast at the rate of more than one per year during the boom of the 1980s and 1990s. Funded initially by Japanese, and more recently by other South East Asian investors and tourist dollars, many courses are associated with five star accommodation complexes where local and international holidaymakers and business people can be totally indulged.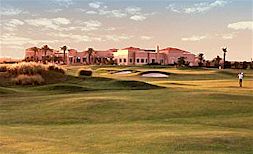 Opened in 1993, The Links, Hope Island on the Gold Coast (right) is a Peter Thomson and Mike Wolveridge design that has won critical acclaim and is now often ranked in Australia's top ten. Paradise Palms, just north of Cairns is an awesome course set at the foot of tropical rainforest. All these courses, and dozens of similar resort courses, most notably in Queensland, but also in West Australia (The Vines, Meadow Springs, Kennedy Bay, The Cut and Joondalup) and New South Wales (Horizons, Bonville, Camden Lakeside and Riverside Oaks) welcome visitors. They are generally available seven days a week to green fee players at prices often below $100 for 18 holes including a motorised cart. Try playing at lesser courses in the United States for twice that price!

ausgolf are the Australian golf experts, please e-mail us for golf travel advice.
travel@ausgolf.com.au