In each edition we look at five of the best – with a golfing theme. In this edition it's the five best Clubhouse experiences. It should be noted this is very subjective – this is my list based on my experiences on the golf course over the years. Got any of your own? We'd love to hear about them, so send us an email and we'll share any we get at the bottom of the article.
Picture this. It was my first visit to this magnificent course, the second course, The Lost Farm, not even a thought in owner and developer Richard Sattler's mind. Staying overnight, I'd played a round with a golfing colleague in a very strong gale that afternoon. I distinctly remember playing a 6 iron to the par 3 seventh (around 100m) only to finish short of the green. A few holes later I put my eight iron through the green on the eleventh, a 470m par 5! That eight iron was my second shot – I felt like Tiger for a moment, only to realise the cyclone at my back and the firm fescue fairways probably helped me somewhat. Anyway I digress.
After battling up the eighteenth fairway to the green in nine shots into a driving wind, the Clubhouse shone like a beacon against the darkening sky. Fire and warmth enveloped me as I entered the building. A red wine seemed in order in preference to beer – but I had both to be safe. I remember sitting at the bar with my mate, enjoying our drinks, taking quick hops to the open fire to warm our backs and chat with the few gathered soldiers that were also recapping their day.
At dinner while the wind and rain continued to drive into the flanks of the Clubhouse, I remember cutting into my mouth watering steak and gazing captivated at the glass of the near floor to ceiling windows, watching as they visibly buckled and warped against the ferocity of the storm outside.
Yep that was a memorable night. It should be noted that by morning the storm had completely abated and we played a second round on a near unrecognisable course in perfect conditions.


There's something about Barwon Heads. Old world charm, a pure links course, a Clubhouse reeking of history. Inviting arm chairs, warm open fires, a great restaurant and in house accommodation upstairs. Again good food, a nice red and great company complete this memory. As did a long game of snooker on a full size table with lots of banter and laughs at our complete lack of skill on such a large playing arena.
If you haven't done the Stay and Play at Barwon Heads with your mates or spouse, I couldn't recommend it highly enough.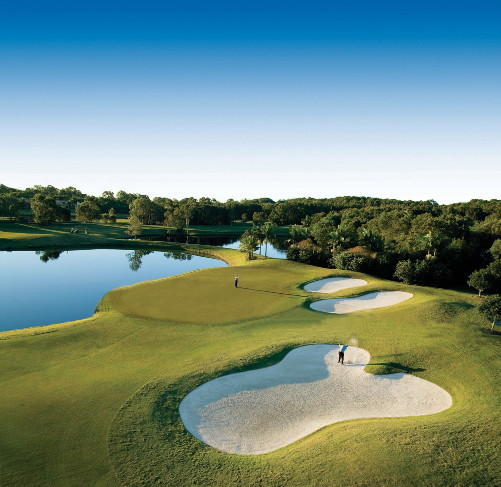 NOOSA SPRINGS
There's something about Queensland especially for Mexicans and a lot is to do with the weather. A number of years back I visited Noosa Springs with the lovely and while she did the day spa thing I did the golf course thing – blissfully on my own, zooming around in a cart on a glorious, warm autumn day.
At the end of the round I had a quick shower and then we moseyed from our on course accommodation to the open el fresco clubhouse, to enjoy an icy cold ale and some good clubhouse grub. As the afternoon faded into evening, that balmy Queensland weather rolled on. The squawk of birds settling into their nests was overtaken by cicadas and the click of glasses by the gathered throng. Does life get any better than this?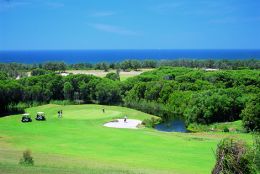 There can't be too many better Clubhouse outlooks that those availed at Tura Beach. Perched high, you overlook the bottom part of the course and the great Pacific Ocean beyond. This memory is many years old now, but back when it was forged, the Club offered a dozen oysters done three ways – 4 natural, 4 Kilpatrick and 4 in some type of oven-baked cheesy, cream casing. I remember being on holiday and hooking up with fellow visitors, enjoying the golf with expectation of the ensuing serves of oysters and beer while gazing at the blue horizon beyond.
My visit to this amazing course that lies hundreds of kilometres from anywhere in the outback of Western Australia offers an experience unlike many others.
The whole complex wasn't very old when I visited. The course was already sublime – a true oasis of green amongst the reddest, hardest, harshest land. The Clubhouse was a modest makeshift building. However the management of the day made the look and feel of the place so right! Wine barrels as tables to lean on, all outdoors, an earthen floor, rusted corrugated iron roof with bare, natural beams holding up the structure. This all overlooked a man-made water hole, surrounded by rusting signs and equipment to add to the look. Cose your eyes and you could imagine you were Crocodile Dundee – get too close to the water's edge and a giant reptile might swallow you whole.
Maybe it was the beer that conjured up that fantasy, but one thing I'll never forget is enjoying a coldie as the sun set, the desert cooled quickly and the evening unveiled the blackest roof and most amazing night sky I can remember seeing. A forgettable effort on the course was rewarded by Mother Nature at her best.
With so many great Clubhouse memories, these must rate a notable mention;
THE DUNES – many an enjoyable late afternoon session enjoyed here
MOONAH LINKS – on a balmy evening, the large outdoor area is a cracker to sit back and retell tales as you watch other warriors complete their day
HEIDELBERG – as a long time member, favourite rounds were always completed on the outdoor deck overlooking the eighteenth
CAPE WICKHAM – although only a temporary clubhouse when I was there, the view overlooking the final hole, with a pristine bay and course and wild ocean beyond is jaw dropping
FLINDERS – it's a theme. Great Ocean views, cold beer and mates!
THE MURRAY RIVER – too many fond memories to mention. Warm weather, friendly clubhouses and cold beer is the rule not the exception up this way. Any choice is a good one
MAROOCHY RIVER – a great outdoor deck overlooking the fairways beyond, lean on the balcony and watch the day turn to night
BONVILLE – the clubhouse overlooking the Augusta like fairways and rolling hills is always a treat
HAMILTON ISLAND – is there anywhere else in the world where the clubhouse sits high with views all round of dotted islands and pods of dolphins and whales dodging yachts and navigating narrow channels?
WOODEND – bereft of a clubhouse, the township is home to the cracking Keating's Hotel. I haven't ventured there for a number of years and I'm told a Brewhouse (Holgate) is part of the premises now. Might be time for another visit!