Golf courses across the globe have many unique and famed highlights – think roads running through the course, fairways sitting atop mountainous cliffs, old homesteads smack bang in the middle of the course, bears and moose grazing on fairways.
Here in Australia is no different and there's many a course with a quirky feature that you may never have heard of. Here's just a few;
Melton Valley Vic
My dad used to say the same joke every time we passed a cemetery in a small town, "this is the dead centre of" (INSERT TOWN NAME HERE). It always raised a smile. While gracing the fairways of Melton Valley, you could pull the same line on your golfing group as you point out some graves of early settlers alongside the 14th hole.
Carbrook Qld
There's a number of golf courses in northern Queensland that have crocodiles in waterways. I remember a round at Paradise Palms (now closed) where the professional highlighted several water hazards around the course where crocs had been recently seen. You were warned not to stray too close to the water's edge.
Well Carbrook takes this to the next level. The story goes that some time back a massive flood from a sea fed river spewed onto the course and after subsiding several bull sharks were trapped in course lakes. The club has a shark as its logo, so you don't want to bite off more than you can chew when taking on the water hazards here!

Image - Carook GC website
Winchelsea Vic
This is a small country course in Victoria's western district. When you reach the second hole you can't help but think the tee box is in the wrong place – the card says it's a par three but it's hard to find the target in any direction. With the green set in a shallow disused mine, the flag stick is barely visible from the tee and you have to launch a ball over the trees that surround the rim of the target. It's challenging, fun and a pretty unusual hole.
Country Club Tas
Just outside of Launceston you'll find the Country Club and from our knowledge it was the very first course in Australia that has a casino on site. It's only small and just a part of a larger complex that boasts accommodation, large surrounding grounds, pool, tennis and more.
There aren't many courses in Australia with an onsite casino but that's ok – if you want to have a flutter after your round, check out new Australian online casinos and you'll be able to satisfy your needs.
Royal Adelaide SA
One of the country's best golf courses has a very unusual feature – a train line runs right through the middle of it. Royal Adelaide has hosted this country's most important golf tournament (The Australian Open), and we can't think of any other course that has held the nation's flagship event with a train line dissecting the fairways.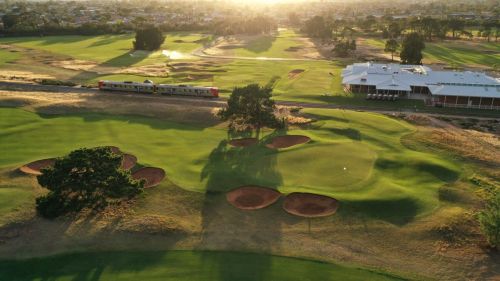 Image - Royal Adelaide GC website
Hamilton Island Golf Course Qld
There's not many courses where you can walk down a raised fairway with stunning ocean views on both sides, while you watch dolphins and whales frolic in the waters below. Well you can on Dent Island, a mere pitch away from the adjoining Hamilton Island, where access to the fairways of Hamilton Island golf course begins with a small boat trip across the water to take you to the first tee.
In reality this list is just the tip of the iceberg when it comes to unusual features you can find on Australia's amazing selection of over 1500 golf courses. Nullabour Links is the longest course in the world and here it's not uncommon to find a deadly snake baking on one of the artificial greens. A number have a resident Koala, wombat, kangaroos or fox to entertain visitors. Others have a geographical anomaly or a man-made structure that has become a part of the landscape. You'll find it all on this great country's golf courses!