by Garry Kennedy (EDITOR Hacker Golf Magazine)
OK, I'll cut to the chase straight up – the title is misleading. I've never played Augusta unfortunately. However, any golfer would love a dollar for every time they heard the phrase, "what's the best course you've played?" Whether you are meeting new people on the first tee, or golf pops up in conversation over dinner, after the obligatory "where do you play?" and "what's your handicap?" this is likely the next question. I have been asked it often, and it's not easy to answer, there are just so many great courses out there!
I thought golf mightn't get any better when I climbed the dunes for the walk to the fifth tee at Barnbougle for the first time.
I had a pretty special day at Cape Wickham, awestruck by the ocean and the beauty and the challenge.
I lost 20 odd golf balls at Hamilton Island but was still thrilled by the vistas.
I was blown away by the splendour and rolling terrain at Bonville.
Kennedy Bay was awesome, The Cut was breathtaking, Kalgoorlie was unique, Barwon Heads is a gem, St Andrews Beach gobsmacking, Joondalup is amazing, Royal Adelaide mind blowing as is all the sand belt courses (Royal Melbourne, Kingston Heath, Commonwealth et al.)
You can't have a bad day at The Dunes and the coral reef and white sands metres from the fairway at Natadola Bay in Fiji wasn't half bad either. And I could keep going on and on…
However I'm not well travelled so I usually get trumped by international journeymen with a better best-course-played-claim. A good mate parred the Old Course at St Andrews. I have golf colleagues that have tackled Pebble Beach, Cypress Point, Royal Country Down and other Major venues.
Around the world golf courses flank volcanoes, invade deserts, reclaim swamps, are set on cliff tops and the bar keeps getting raised. Someone will always have a better crow.

But there's one brag that will stop all others dead in their tracks – "I've played Augusta National". It's the trump to beat all trumps, the boast that pricks all balloons. Apart from Presidents, dignitaries, the very wealthy or the very connected, the only people to grace the fairways at Augusta National is a select field of the world's best golf professionals. Or so you thought…
One little known fact is there's an annual ballot at Augusta. All accredited media attending and reporting on the Masters are invited to enter a draw to play the course on the Monday immediately after the event. What an opportunity – a once in a lifetime chance! Being drawn must be akin to getting access to free betting tips or finding a Golden Ticket to tour Willy Wonka's Chocolate Factory.
No one could really tell me how many media are drawn to play, but after a little digging I came up with 28. This is the number of "out-of-towners" given the opportunity of a round on the hallowed turf. I think over 400 media would cover the event – so your chances of being balloted are slim.
There was a time when all the major newspapers in Australia sent writers to cover all golf's majors, however as print presses wither like drought stricken grape vines, so too have assignments abroad. Today, Australia would be lucky to have a handful of press covering the Masters – instead they source articles from AAP or other news services. It's a sad reflection of a dying art. So an Australian press representative experiencing the ultimate golfing thrill may be a thing of the past, however I personally know two writers that have lived the dream and I sat captivated, listening to them reminiscence of a day that is now a life highlight.
MICHAEL DAVIS
Michael Davis is a scribe known to most in this country. He was senior golf writer at The Australian for 25 years. He also had 10 years at The Herald Sun (he reported on golf but also AFL footy for a big chunk of his time, heard on mainstream radio as a commentator too). He's currently a writer-at-large at Australia's biggest golf publication, Golf Digest.
Michael covered roughly 30 majors in his heyday and that included three trips to the Masters. It was in the late nineties, on his third sojourn, that he graced the candied fairways.
MARTIN BLAKE
Martin Blake is a well-known journo in Australia, based in Melbourne. Starting his career in the early 1980's at the Ballarat Courier, he progressed quickly through the ranks. In 1986 he found himself at The Age. Until 2012 he held roles as Chief footy writer, Chief cricket writer and Senior golf writer. He's now a freelance journalist that includes a gig as Senior writer for the Golf Australia website. He's also penned 8 acclaimed sporting books.
Martin also covered three Masters and on his last trip in 2012 he felt like Neil Armstrong getting plucked for a journey to the moon.

The Michael Davis Story
As we spoke about the magical day that Michael played at Augusta, you could feel the memories filling the room even though it was two decades ago. It was a crisp morning with frosty greens and an early tee time somewhere around 8am.
As we jumped from recollections of being at the Masters to actually playing the course, you could tell that this event is a standalone for patrons, media and the select players that compete in golf's most exclusive field.
Michael recalled that an accredited press pass got you access to anywhere. You could enter the clubhouse and mingle with players, use the locker room or enjoy a clam chowder on the clubhouse balcony and find yourself sitting alongside Jack Nicklaus. The Club wants the press there and you are welcomed wholeheartedly for the week.
He also remembers how patrons aren't gouged like they are at almost every other sporting event in the world. Sandwiches and drinks were modestly priced (maybe a buck and a half for a sandwich). Then there were little quirks. He remembers having a coke in the Clubhouse. A member politely picked up his can after he rested it on a table and emptied the remaining contents in a plain green cup without a word. No advertising at the Masters – it's just how things are.
He didn't know his three playing partners but did recall they were too tight to fork out for a caddy on the day. He wrote a piece about this and it follows at the end – it's a wonderfully written account of his time.
Michael is a modest golfer and on this special day he sported an upper limit handicap. Playing golf was never a priority, instead he threw himself at his craft with his full heart and soul and reporting and writing didn't leave much time to play the game he covered so eloquently. I remember this was the case with many golf journalists I have met, they're so busy covering golf in the summer and other sports in the winter. Weekend reporting was a must, it left little time to form a solid swing.

So drawn from the media throng, a game on the Holiest of Holies was his to savour.
On the first hole the nerves rumbled in his stomach – I could only imagine how tense he must have been. After an inglorious tee shot and a few slaps to get to the green, he crowned the first with a two-putt from 40 feet. His caddy Leroy Rose suggested he putt at right angles to where he intended. Bewildered, he reluctantly took the advice and knocked it to tap in distance. The caddy was to be invaluable on Augusta's testing greens!
A handful of early round bogeys and Davis was on top of the world. Expectantly the standard couldn't be sustained – excitement, the sense of walking where some of the greats had graced, the quicker than quick putting surfaces and nuances that have guarded Augusta against the most talented of combatants finally, relentlessly took their toll.
His score at the end of the round was irrelevant, Michael Davis had played Augusta National, the round of a lifetime. After a feed and more fussing by all at the Club, a ten out of ten experience was indelibly ingrained in his memory for ever more.
The piece that follows was penned by Michael himself – it's a cracker!
---
PARDON this self-indulgence. But I had the pleasure of playing Augusta many years ago when nobody could get on.
These were the days when the back nine was not televised and the club supplied all the caddies, even for the Masters tournament.
Most of the bagmen were of African American descent and their jobs at the club were tightly held, often being passed down through the family. Such are the nuances of Augusta that any amateur, even one of my very modest golfing ability, would be unwise to attempt a round at the game's venerable cathedral without a local on his bag.
This brings me to Leroy Rose, a 68-year-old with a thatch of tight grey curls on his head and a twinkle in his eye who stepped from the caddie shack and for $US20 chaperoned me around Augusta as if I was Jordan Spieth.
The Masters had been competed the day before and a bunch of near-do-wells was assembled for a once in a lifetime experience when my name was announced on the first tee.
Up I stepped and promptly cold topped my drive off the tee 30 metres. At least it was straight. Undaunted, Leroy took the driver out of my hand and replaced it with a long iron as we took the shamefully short walk to my ball. "I think we'll leave it (the driver) in the bag today,' he said.
Somehow I managed to make decent contact with my second shot after which Leroy encouragingly offered. 'You hit that club pretty good,'
But it was on the greens that Leroy came into his own. Trusting the line he picked, often seemingly telling me to hit it at right angles from the hole, I managed to two-putt a couple of times. Four bogeys in five holes was the result – unbelievable by my standards – before the wheels fell off.
However Leroy stayed loyal to the end, steadfastly refusing to offer even a smidgin of advice to the three-man UK television crew in my group, all of who had stingily opted to carry their own bags. At times they almost begged him to read the line of a putt, but on each occasion Leroy just shrugged his shoulders, not in defiant manner mind you, but in a way that made it quite clear he had not intention of helping them out.
Leroy told me he had eight children – four sons and four daughters. All the boys were caddies at Augusta. A widower, he recently become engaged to a 29-year-old.
"People tell me she's young enough to be my daughter," he said detecting an incredulous look on my face. "But I just 'lurrv' the girl," he added.
At the end of the round I asked Leroy to do something I still regret: to sign my Masters cap as a permanent memento. He took what seemed like half an hour to scrawl his name in pen across the peak. It was only then that I realised this elderly man from the America's Deep South who had been such a charming companion was barely literate.
All these years later, the signed cap still holds pride of place at home.
---
The Martin Blake Story
When I spoke to Martin Blake about his Augusta odyssey, recall was easy. Blake knew the procedure for this seemingly one in a million chance. Put yourself in the ballot at the start of the week and cross fingers and toes. Twice before his 2012 lottery win, he went to Augusta with bated breath. An optimist, he hauled his golf clubs half way around the world in anticipation. On both occasions there was no cigar and after an exhausting week he dragged an unused bag of sticks back home.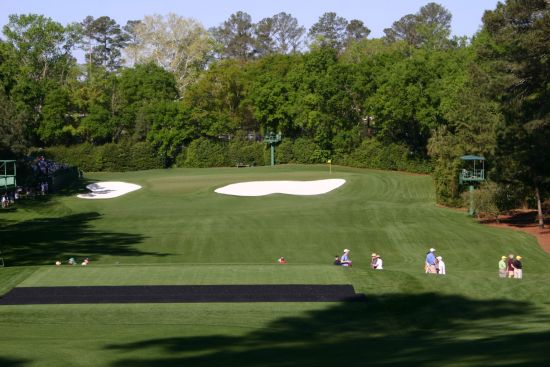 On visit number three the clubs would stay put. Of course you could write the script!
Names are posted on a small board outside the Clubhouse on Masters Saturday and journos clamber in the hope that their name is one. Martin didn't bother joining the throng, busy out on the course doing what he was paid for. But fellow Aussie journalists saw his name and frantically traversed the fairways to find him with the news – he was a chosen one. He wouldn't believe it until he saw it for himself. And there it was. As an added bonus he would share the experience with another Aussie journo, good friend Jim Tucker from the Courier Mail.
His head started spinning, this couldn't be real and shit, he didn't have any clubs! He enquired at the Clubhouse but there were none available for hire. He asked colleagues and friends – again no luck. He ventured outside the gates of Augusta and found a local course. After telling the bloke looking after the place his story, he offered Martin his own set, so excited was he that he'd met a bloke that was going to play the hallowed turf down the road.
After gratefully accepting the offer, Blake discovered that he wasn't well tooled for the day ahead. At best the clubs were a wild collection of odds and ends you might find in a second hand bin at your local course, but that's all he had and he wasn't missing this chance for anything.
Martin's recall was amazing and you could sense what the day meant to him. First born aside this was a life highlight.
On the Sunday afternoon he was handed an invite and tee time and that evening he attended a briefing of what would occur the next day. He was told to arrive by car (not in a cab or uber), so he and Jim got a rental and arrived as per instructions.
They were nodded through the gates after showing their access-all-areas-pass and made their way down Magnolia Lane, very, very slowly, savouring every second. After a welcome, bags were taken and they were show to the Champions Locker room – rich with history and oozing charm - it wasn't a grand, opulent shrine as one might imagine. It was small and it was better. He was assigned Fuzzy Zoeller's locker. He was also allocated a southern local caddy and invited to use the unparalleled practice facilities.
Blake said there was a total lack of understanding between himself and his caddy. They simply couldn't understand each other! His caddy's thick, southern drawl meant Blake could only understand about 15% of what he said and the southerner was finding it equally hard to understand his Australian twang. Hand gestures and grunts would have to be the order of the day.
Despite his gut wrenching nerves Martin remembers flushing one down the middle off the first tee. Pin positions were identical to Sunday's closing round, but they played off the member's tees - well forward of the pros. And the whole place was looking considerably different. Not only were the thousands of fans gone but so were most of the stands and barriers. But it was still special, oh so special. A crisp nine iron, two putts and he was away with a par and a chest puffed out like a parading peacock.
I've played golf with Martin before – he's a solid golfer – and he recalls playing off 13 on the day. He remembers the course not being overly tight, it was just positioning and leaving your ball under the hole that mattered. The greens were like glass. He notched up several three putts and one four putt too – sorely remembered. From 60 foot he knocked it to eight and he deciphered his caddy's advice. His next putt was into the grain and he needed to hit it firmly. He hit it 20 feet past! Maybe the communication between caddy and player was worse than first thought!
Martin kept referring to the day as a surreal, continually pinching himself not believing what was unfolding. When he got to Amen corner he was beside himself and shattered when he launched his ball a little right off the tee only to find the drink at 12. "I just wanted to hit a good shot on that par three". A drop, a fluff and another pill in the water – finally an up and down and he recorded a seven.
Participants were told at the start of the game not to rush, they were invited to take photos and savour the day, and so they did. Martin and Jim stood on Hogan's Bridge and took photos and they hit from where Mickelson famously played from the pine needles (and behind a tree) on 13. They had a few shots from where Tiger holed out on 16 and they couldn't work out how he made that shot - none of them got close. Before that Martin drained a thirty footer in 16 for par!

And they felt a little dirty when then stood where Larry Mize stood on the 11th – how did he make that shot, how did it stay in hole, why did he shatter Greg Norman's and every Australian's dream?
From the forward tees eighteen didn't appear as tight as it looked on telly he noted. Again he got his drive away, reached the green for two only to watch it feedback away from the hole like many a champion before him. When the flag stick was replaced on eighteen, hands were shaken and scores tallied he was very satisfied. He broke 100, a 98 off the stick at Augusta National!
In closing he noted the superb conditioning, it almost looked fake it was so perfect. Not a bare patch, not a divot, not a blade of grass out of place. Whiter than white bunkers, flowering garden beds even more colourful that imagined, Rae's Creek glistened in the afternoon sun.
To put the uniqueness of the experience into perspective, Martin told me how he shared a house with around ten Aussies that week, a collection of media and a few pro golfers. One house guest was Peter O'Malley. No slouch with the clubs, POM beat Coin Montgomerie in one of his 8 professional victories and finished Top 10 in two Open Championships, and he was ranked 60th in the World at one stage. He vowed never to come to Augusta until he'd earned the right to play there. Then in his mid-40's, he acknowledged his career was winding down and he it would be highly unlikely he earn a spot now, so there he was.
And so was Martin Blake, proud Aussie, thirteen handicapper at Goonawarra Golf Club in Melbourne's north. The only difference was he'd played Augusta and O'Malley never would. Now that's ironic and a perfect illustration that a round at Augusta is the rarest and best of golfing brags.