GOLF COURSE SEARCH
FREE NEWSLETTER
Sign up for our monthly e-newsletter
US Amateur Medallist turns professional
Western Australian Brady Watt, one of the world's elite amateur golfers, has turned professional. The 23-year-old former Golf Australia National Squad member will make his debut among...

---
Golf Course Rankings
Check out the Latest Top 100 from all the major lists in this comprehensive section. Search by design, condition or aesthetics.
Golf Handicaps and New Slope System
We'll keep you updated with the latest changes, how are handicaps calculated and where do you get one.
---

MAGENTA SHORES
Limited land release
Only 19 allotments from $399,000
---
Charity Golf Days
Ever wanted to play top private courses, the likes of Royal Melbourne and Woodlands, Terrey Hills or the Old Course at The National? Your best chance may be to participate in a Charity day at the course. We've got a list of Charity days around the country for the remainder of 2013.

Latest News
12th Dec

10th Dec

9th Dec

2nd Dec

1st Dec

1st Dec
ALL NEW 2014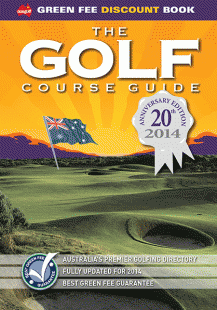 Click here to order now