"Acclaimed as Australia's best public golf course in 2001, The Dunes is beautifully undulating, a true links in the Scottish and Irish traditions. Dry all year round with sandy base. Fully irrigated, with Santa Ana couch fairways and excellent Cobra bent greens.
"Tombstones" Event – First Tuesday each month. Play The Dunes from the back "tombstones". Entry limited to players and markers with official GA handicaps. Better your handicap and win a dozen Titleist golf balls.
WHY THE DUNES BUILT TWO NEW HOLES
The Dunes Golf Links on the Mornington Peninsula built two new golf holes – a new 15th hole and 16th hole. The existing 15th and 16th remain and will continue to be used from time to time.
We asked course architect, Tony Cashmore, whether this was because he and The Dunes were unhappy with the existing holes. His reply was "absolutely not". So we then asked him why a golf course ranked in Australia's Top 20 and in Australia's Top 5 public access courses would take the courageous, but very unusual step of making a material change to its course layout for no apparent reason.
Tony then said "there was a very good reason – very simply the owner of The Dunes wanted to make the course even better, to be ranked in Australia's Top 10. Surely that is the best reason of all".


Tony then went on to explain it this way: Golf courses often make modest adjustments to their golf course. For example, a new tee, a fairway bunker is moved or a green renovated. This is all part of the dynamic nature of course presentation. Sometimes major changes are forced by circumstance – for example, problems with neighbours on a course boundary. But it is fair to say that the general rule is leave well alone or if it ain't broke don't mend it.But The Dunes is different. It is owned by one person and there is no Greens Committee. The Owner of The Dunes acquired 30 acres of vacant land on the golf course's western boundary about 10 years ago. This purchase was motivated by a wish to protect the ambience of The Dunes. The land comprised beautiful sand dunes and beautiful valleys and it would almost certainly have been used in The Dunes' original course routing had this 30 acres been available when designing the course. Certainly there were four glorious golf holes just waiting to be built, but there was a snag – it was virtually impossible to fit them into the existing layout. A golf course routing is like a jigsaw and once you alter one thing frequently there are knock-on effects that can mess up the whole jigsaw.
Tony says he and the owner discussed what they could do with the land many times. In the end the only sensible use of this land was to create a new 15th hole as a strong par 4 (replacing a short par 5) running west down a glorious valley in the sand dunes, followed by a 500m downhill par 5 16th (replacing a strong par 4) that used the existing 16th green. Tony's strong view is that the new holes are an incremental but important enhancement to the quality of the overall course layout.
So The Dunes now has 20 golf holes (but only 18 available at any one time). It welcomes the many lovers of The Dunes to come and experience the changes and pass their opinion on the new holes.

Course Review by Selwyn Berg
"Links golf is real golf" so they say, and The Dunes is as real as it gets in Australia.
This phenomenal course has only been open since March 1997 in its present form, and already has received rave reviews by the established golfing journalists who usually reserve their praise for the likes of Royal Melbourne and similar sacred turf.
Yet down here at Rye is a piece of pure Scottish/Irish linksland – created by God, and merely requiring man to mow a little grass. True, the fairways have been sown in the latest fashionable strain of couch – Santa Ana – and the greens are bent grass, the whole lot fully irrigated, but the rough is natural, and more importantly, so is most of the topography. The Dunes has one solitary tree upon it, so man must battle with wind and the other elements in the true traditions of the game.
The course winds through rolling valleys, hollows, hillocks and swales, and although there are just a few gentle hills, most greens and tees are in elevated positions so that a stout constitution is desirable.
There's not a weak hole on the course, but a couple define what it's all about. The 354m par four 14th, if played from the true tee position, confronts the golfer with a tee shot played through a narrow chute beneath two monstrous dunes to a distant dogleg beyond. Judging distances is always part of the challenge on a treeless links course, so play the course a couple of times to truly appreciate it.
The 17th is a longish par three, declared as "a truly beautiful golf hole" by none other than Tom Watson.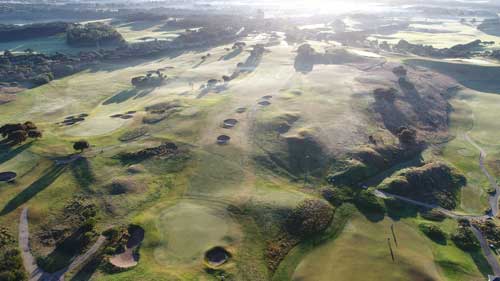 If you're a reasonably competent golfer it is strongly advised to play the Dunes from the Blue tees (there are Black "Tombstones" too for special events), as the forward tee positions for social play can compromise the architect's strategy. However, beginners who want a taste of what it's all about can try their hand at "The Cups", a nine hole version of The Dunes at the same location. The dress code is not as strict, and learners who may be a little slow will find that they are not as pressured to keep up.

Click here to tour The Dunes Golf Links Web site