Conveniently located between Corowa and Albury, on the banks of the picturesque Murray River, you will find the beautiful town of Howlong, home to the Howlong Golf Resort. Players and holidaymakers alike flock to the area to enjoy the scenery and take advantage of our full range of facilities. Whether you're an avid golfer or just looking for a nice place to relax and unwind, you can rely on our service and expertise to ensure you have the best possible time. We have two great restaurants onsite, as well as a playground for the kids. The Howlong Golf Resort makes taking the family somewhere special easy and affordable. Our facilities have something to keep kids and adults of all ages entertained. With great food on offer, a kids playground, bowls and croquet, Keno and TAB, you'll never run out of ways to have fun. In addition, you'll find our accommodation rates to be affordable without compromising comfort, cleanliness and convenience.The course at Howlong Golf Resort is highly regarded, a joy to play, nice and flat and suitable for all levels of golfing prowess. We work hard to provide the best golfing experience, while ensuring it remains affordable for almost everyone. The Howlong Golf Resort offers more than just the finest golf experience. We have a complete range of facilities, perfect for family holidays, romantic escapes, fun with friends, and much more. To find out more about our golf club and resort, please don't hesitate to get in touch. Whether you're a local to the Corowa and Albury region, or visiting from interstate, you are assured of a top-quality experience at Howlong Golf Resort. Discover our full range of services by picking up the phone and calling us today (02) 6026 5321.
VISIT THE WEBSITE FOR MORE DETAILS - Click here
ACCOMMODATION
You will share the warmth of Howlong hospitality when you stay at the Howlong Golf Resort. The Resort overlooks the golf course, bowling greens, tennis court and pro shop. We offer modern units located in a quiet setting off the highway. There is also an inground pool, kids play ground and a tennis court - not to mention we are just 50 meters from the Club with fine dining seven days a week.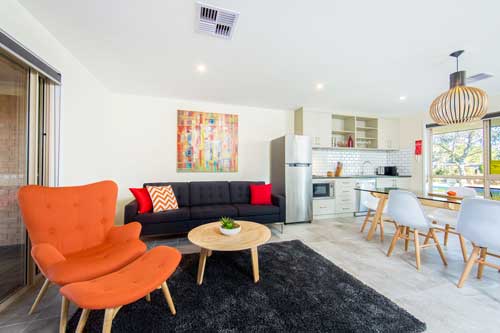 Luxury Apartments
6 People
2 Bedroom - 2 King Size Beds or 6 Single Beds
2 Bathroom
Book from $270
Superior Studio Rooms
4 People
King Size Bed & 2 Single Beds or 4 Single Beds
Book from $150
Play & Stay Packages
Available for Golf & Bowls
Unbeatable Value
Book from $96pp
The area surrounding Howlong is famous for its wineries and with 19 different options to choose from in the Rutherglen Region it is not hard to fill in a few days just taking in the rolling hills around this beautiful region.
Each resort suite is air-conditioned with flat screen colour televisions and tea/coffee making facilities. Continental or country style cooked breakfast is available and served to your room. Free WiFi is available.
If golf, bowls or croquetare not your only interests, why not try our salt water swimming pool and if you are feeling really energetic have a hit of tennis, then sit back and relax and enjoy our BBQ facilities in the rotunda.
See website for details – click here
MEMBERSHIP
GOLF Memberships
Golf Playing: $265 (for those living within 100km of Howlong Country Golf Club
Golf Remote: $129 (for those who live more than 100km from Howlong Country Golf Club)
Golf Pensioner: $210 (must have government issued pension card)
Golf Junior: $44 (for under 18 year olds)
BOWLS Memberships
Bowls $170
Junior Male $44
(All Fees inclusive of GST)