The home course of Marc Leishman
The Warrnambool Golf Club allows public access 7 days a week with memberships also available. It is located within 2km of the regional city's CBD and makes for an ideal destination for the dedicated golf tourist, social golfing groups or family holiday makers. The Warrnambool Golf Club has operated on its current site since 1927 and has developed a reputation for supplying a quality member experience through its weekly and annual program. The clubhouse is welcoming and provides a venue for a variety of functions whilst also providing a well-stocked golf shop that has golf clubs and golf carts for hire.
THE COURSE

Set behind a tertiary dune system along Victoria's Shipwreck Coast, this classically designed Thomson Perrett course features a number of spectacular elevated tees, tree lined fairways and tight driving holes providing an unforgettable golfing experience. The installation of an integrated recycled watering system and an extensive drainage program has ensured this well bunkered course is presented at its best all year round.
But the highlight of a round of golf at Warrnambool Golf Club would have to be a trio of par 4's on the front nine known as the "Shipwreck Bend". Starting with the 4th hole, they wind between massive dunes and when standing on the elevated 5th tee you are offered a tantalizing glimpse of the great Southern Ocean just behind the green. Lush green fairways lined with dense ti-tree or scarred sandy wasteland, the Shipwreck Bend is not for the faint-hearted and can cause the best of golf rounds to come to grief. Just like the eighteen shipwrecks purported to have sunk along this treacherous part of the southern Australian coastline. Are you up to the challenge of Shipwreck Bend?
GREEN FEE PLAY
Visitors are welcome 7 days a week, with 18 holes on this championship course only $49 ($44 with the GOLF Course Guide) or $30 for nine holes. Member's guest rate is just $35, while juniors Under 18 pay only $15 for a full round or $10 for nine holes.
MEMBERSHIP
Warrnambool has a wide range of membership categories to suit every golfer. There are 7 and 6 day categories, Country memberships, unique introductory 3 day memberships, Summer memberships and discounts for full-time students and Under 18 to 29 year olds.
To view all the categories and prices or to download a membership form Click here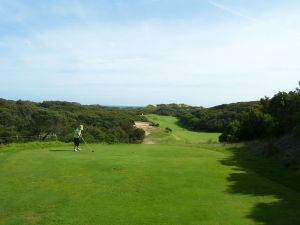 FUNCTIONS & VENUE HIRE
The Warrnambool Golf Club function room is available for hire for a variety of activities at competitive rates. Our helpful staff will give assistance in planning events such as weddings, trade exhibitions, seminars and small business meetings. The full corporate golf experience is also available.
To discuss your requirements please contact Peter Stone (Function Coordinator) on (03) 5562 2108 or email golf@wgcinc.com.au
WEBSITE
To view all the Club news, Club events and Club details Click Here to visit the Club's website.
Play the SHIPWRECK COAST GOLF CLASSIC - November 10-11th
Played at Port Fairy and Warrnambool Golf Clubs
Click here for details and an entry form
---
The club is very proud of Touring Professional, Marc Leishman, who developed his love of the game during his junior golf career at Warrnambool. Marc's potential was on display early winning the Club Championship at age 13. Marc exploded onto the International Professional scene winning 'Rookie of the Year' on the PGA Tour in 2009.
---