Golf, just like all other sports, has become more of a mental than physical sport in recent years. There are many different ways in which golfers are approaching their shots, and the pre-shot routine is arguably the most important part of the mental preparation in golf.
Lots of punters are often amazed of how accurate their predictions can be if they get familiar with some of the golfers pre-shot routines when they participate in Online Golf Betting. They often mention Jason Day as a great example of how his play can be predicted if you carefully follow how he reacts in his pre-shot preparations.

The Australian is famous for his 15 step pre-shot routine which he developed together with his coach Jason Goldsmith and which is one of the most carefully planned pre-shot preparations. In this article we will look at what Day has said about his routine and how it has improved his game.
How It Is Done?
When preparing to make a shot Jason Day has often spoken of the importance of carefully focusing on his breathing, mind and body awareness, and posture. At the beginning these were all separate processes for him, but as time passed they all merged in one single action for the Australian.
To do this he often uses state of the art technology provided by his coach, Jason Goldsmith, who is heavily involved in the field of sports technology and science. The 15 step routine was actually initiated through the use of a head band, which Goldsmith's company provided, and which came with software that follows brain activity and cognitive function.
The goal for Day was to do the shot in his head on a more intuitive and subconscious level. Whenever there was a mistake in the 15 step process the software would record this and then the golfer coach pair can work on improvements.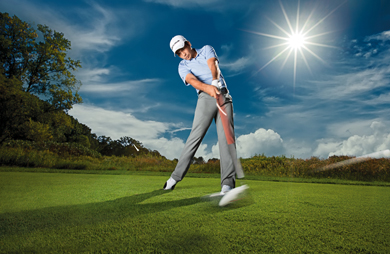 Problems with the Routine
When Jason first began practicing the technique he often had problems from keeping his rational and conscious mind away from the pre-shot preparation routine.
For example, in 2009, when Day was participating at the Pebble Beach Tournament, he was left paralyzed for half a minute and just couldn't shake off all the negative thoughts that his rational mind was feeding him. His brain was going through all the bad outcomes possible and Day just couldn't put himself in the right mindset for the shot.
Perfecting the Routine
According to Goldsmith, Day often encountered problems such as these at the beginning because it is very difficult to block your conscious mind from interfering when you are trying to relax and execute something on a subconscious level. Fortunately, Day overcame this problem quite soon and his new technique was a key component to the success of his game.
Day has often said that the he takes golf really seriously and he approaches his pre-shot routine similarly. He has put in thousands and thousands of hours of practice on the golf course and, if we are honest, it shows in his game.