Just three years after opening, Black Mountain Golf Club near Hua Hin has become the first course in Thailand to be named among the top 100 golf courses outside the United States.


In the latest rankings published in the May issue of US Golf Digest, Black Mountain was placed 98th best course outside America among an elite field of which only 14 are in Asia. Five of the Asian courses are in Japan, three are in South Korea, two in China and one each in Guam, Indonesia (Bali) and Thailand.

Located just 10 minutes from Hua Hin, 200 kilometres south of Bangkok, a long-standing holiday destination of the Thai Royal family and favoured by European visitors, Black Mountain was designed by Phil Ryan of Pacific Coast Design in Melbourne, Australia.

"We are proud to be the first course in Thailand to make it into the Top 100," said Harald Elisson, general manager of Black Mountain Golf Club. "The ranking is the third major award for the course in the past four months and will further strengthen Thailand's position as the best golf destination in Asia."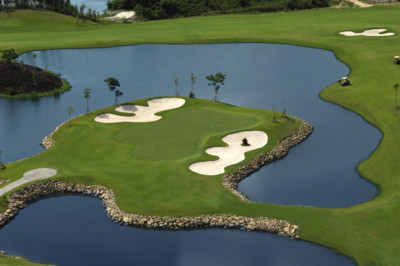 Late last year, Black Mountain was named by Asian Golf Monthly as the best course in Thailand and the best championship course in Asia Pacific. The championship golf course has hosted two Asian Tour events as well as the 2010 Royal Trophy. In 2010, Asian tour players voted Black Mountain the best host venue of the year.

Located just 10 minutes from Hua Hin itself, Black Mountain is designed to create a layout that would test the world's top golfers, but remain playable and enjoyable for average players. The design offers generous fairways for the shorter hitter, but become narrower for better players.