Join the beautiful Flinders Golf Course, set on the Mornington Peninsula.
View the Website for full details
THE COURSE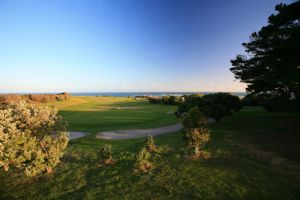 The Flinders Golf Club provides a wonderful experience combining a sense of tradition that comes with being over one hundred years old with top quality playing conditions and boasting modern facilities.Perched high on the cliff tops, views across Western Port to Phillip Island and the rugged Bass Strait coastline provide a stunning panorama whether you are strolling the fairways of this unique golf course, enjoying a light lunch or hosting your special occasion in our award winning clubhouse.A regular visitor to Flinders in his early years Peter Thomson honed his skills on this cliff top course in preparation for his assault on the British Open Championship.
"Flinders is one of those unique coastal courses, - not quite links - neither is it woodland or marsh, that perches high on the cliff top, making it a distant cousin of Pebble Beach and a relative of Muirfield. It is in a fine family of golf that is always best played in wind on salt-sprayed turf with a view of the blue sea. Flinders course is friendly yet full of surprises and intrigue. Bring all your clubs because you are going to need them and a good understanding of what Golf is all about."
Peter Thomson OBE
MEMBERSHIP& SPECIAL OFFERS
Friends of Flinders
Sign up to become a Friend of the Flinders Golf Club and we will not only keep you up to date with Club news, events and special offers, we'll also email you a 2 for 1 voucher to use on your next online booking.
Click Here for details
2017/2018 Membership Offer
The Flinders Golf Club's offers a true coastal golf experience with a friendly, progressive and passionate club atmosphere, in a spectacular location. We offer cost effective membership options with 7 days access to the course and facilities. Whether you're starting out, returning or looking for a second course, the Flinders Golf Club has the perfect membership for you!
Our 2017/18 membership packages are now available and include a range of membership options from traditional six and seven day golf memberships to flexible lifestyle memberships, aged - based and junior memberships. Not a golfer? Why not ask us about our bowls, bridge and social memberships.
Join as a 6 or 7 Day Member and we'll Included $300 worth of extras absolutely free! You'll receive 3 x half hour lessons with our PGA professional Josh Shaw, a Flinders Golf Club logo polo shirt, logo hat, ball marker and a decal sticker for your car all on top of our standard membership inclusions.
There is no better time to join the Flinders Golf Club, so contact us today or download your application form from the website. We look forward to welcoming you to the Club.
Clcik here for details
Online Green Fee Offers
Check out our online green fees and package rates for online bookings CLICK HERE
CLUBHOUSE


The Flinders Golf Club offers a modern spacious clubhouse that is ideal for either a formal or informal occasion. Uninterrupted views across the golf course, Western Port Bay and Bass Strait provide a stunning backdrop for that special occasion. Our Clubhouse is open for lunch to members and the public every Tuesday, Thursday, Saturday and Sunday and available for functions, meetings and seminars, conferences, weddings or birthday parties as required. Regardless of the occasion, our customer service team will be able to provide you with the experience and know how to help make your event a great success.
Room configuration is flexible, enabling intimacy to be provided for the smaller gathering or a large open space for functions with greater numbers.Our dedicated food and beverage team will provide your guests with a warm and friendly service.Whether you're entertaining family and friends, business associates, planning a gala evening for your association or charity or hosting a corporate presentation, look no further than the Flinders Golf Club.
For further information contact: house@flindersgolfclub.com.au
SOCIAL GROUPS
The Flinders Golf Club plays host to many Social Golf Clubs with Sunday mornings being a very popular time. Social Clubs find that Flinders is the perfect 'value for money' experience their members are looking for. Playing a picturesque and well maintained golf course that is challenging without being too demanding, Social Club members can relax and enjoy their golf.
Many groups take advantage of the gas operated barbeques in the picnic area whilst others opt to discuss their round in the clubhouse, availing themselves of the Bar & Catering facilities on offer.
To stand on the balcony overlooking the course, turning the sausages and steaks with one hand, whilst enjoying a cool beverage from the other is just about the perfect way to complete the day.
Special Packages are available, starting from as little as $65.00 per person for Golf & BBQ .
Enquiries welcome. For details phone (03) 5989 0312 or fill in our online form.
---